Extension House
This project extends, and thereby distorts, the Californian bungalow. While it may speak the same language, it does so with unfamiliar inflections.
So what's changed? The roof remains the same simple A-frame it has always been, the side walls are exactly where we found them, and the floor, predictably, is still under foot. Only this same roof, these walls and that floor have all been stretched towards the backyard. Now stretched, new living areas have opened-up in the spaces between them: a kitchen, a dining room, a study and an outdoor deck.
The transition from Californian bungalow to contemporary addition is most apparent when comparing the front and rear facades – the latter, a contemporary distortion of the former. The original A-frame has been sliced at an angle to optimise orientation; the façade folded-in, affording shelter over the entry doors; the timber gable dropped over the windows like an eyelid, providing shade and shelter to the living spaces within.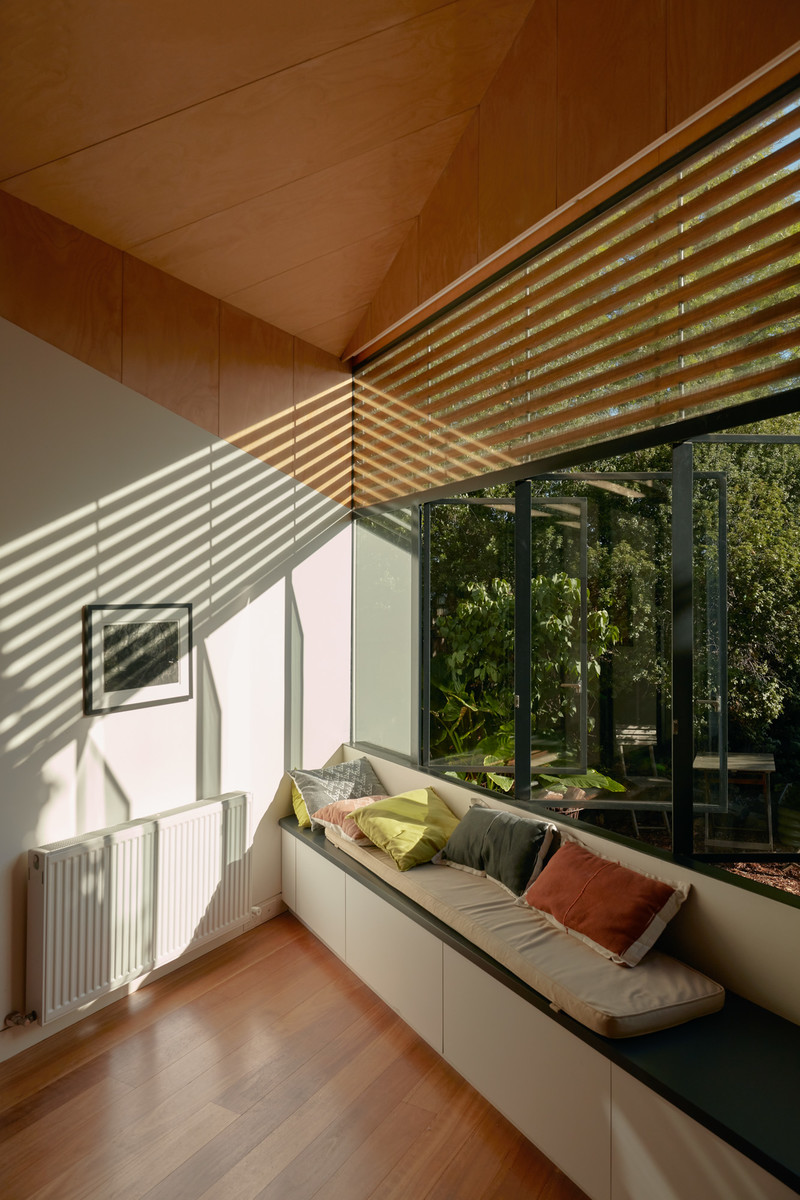 Taking cue from the front façade, each of these gestures is captured in a charcoal outline: the square line of the deck's plinth; the cranked line of the walls' base; the diagonal line of the fascia above.
Internally, a diagonal axis connects the new with the old in a single sweep. Curved walls gently pinch the axis at its centre, while light fittings and a skylight punctuate the ends see floorplan. This is the first in a series of elongated, diagonal relationships which enhance the impression of spaciousness, both within the house and out into the backyard.
Flanking this internal axis, incomplete walls slip between the rooms, acting to both define and to connect the primary and the secondary spaces. In this way, the kitchen and the study are like spatial eddies to the main living areas; connected, but to one side.
At the end of the axis, the ceiling lifts, exploiting the full height of the A-frame roof and revealing a beautifully crafted plywood vault. Here, the extension is angled towards the north-east, turning from the punishing western sun and creating a longer, diagonal view out into the garden. Timber battens drop-down over the glass to provide shading and custom-designed steel framed windows pivot open, making the window seat a perfect place to sit and enjoy the outlook.
Connecting the indoor and outdoor spaces, simple chain-wire netting – a nod to humble suburban fences and cricket-nets – will provide excellent seasonal shade once the grape vines have matured, softening the exact geometries of this Extension House.
Thanks to Architecture Architecture's talent and efforts this has been a smooth process, and my family and I are exceedingly pleased with the end result… their vision is very assured. All elements of the design feel like they belong, no detail is out of place.
M & J