Turnaround House
This project is an extension to a Victorian-era house in Abbotsford, Melbourne. The brief called for new open-plan living areas, a new kitchen, bathroom and study nook. Against the odds, this modest extension has turned a dark, cramped residence with little backyard to spare, into a light-filled house with fantastic indoor and outdoor entertaining areas.
The existing house was south-facing, casting itself into shadow, with unsightly neighbouring buildings imposing on all sides. By creating a U-shaped extension along the property boundaries, Architecture architecture has turned everything around. Now the house enjoys a generous private courtyard, with sunlight throughout the year.
Architecture Architecture's ability to help us through the design, planning and construction process, while realising our design brief and budget, made what we thought would be a stressful process really exciting.
james and ash
From the outside, the steep, raked roof deftly negotiates planning regulations, allowing for generous ceilings and high-level clerestory louvres. In stark contrast with these windows, an unapologetic blank brick wall hovers over the courtyard, boldly declaring a distinction between the two sides of the living areas within. One side, more intimate, opens up to the courtyard, the other, with views to the passing clouds, admits northern sunlight in the wintertime.
Along both sides of the courtyard, a pair of long bench seats soften the threshold between indoors and out. One serves the living areas, the other serves the courtyard. At the back of each bench, bi-fold windows draw back, allowing the house to throw itself open to the outdoors or to close-off – adapting as required.
The material palette further assists in relaxing the otherwise clear geometries of this house. Exposed recycled brick (an echo of Abbotsford's industrial heritage) and white timber boards (a staple of the modest residential extension), subtly breach the delineation of indoors and outdoors, weaving the two together.
The optimised solar orientation along with the use of brick walls and a dark concrete slab for thermal mass ensure that this is a high-comfort, low-energy house all year round, ideal for entertaining. A true turnaround.
(see Fragment 2)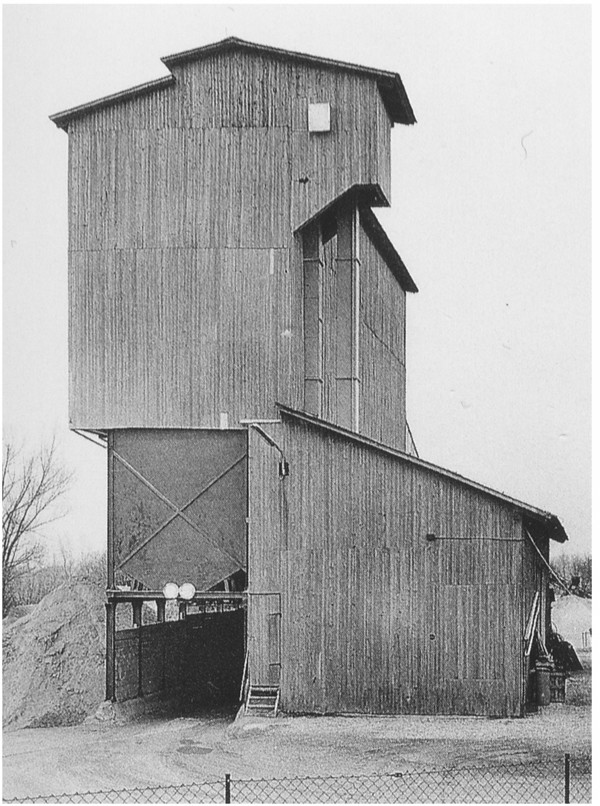 (Fragment 2)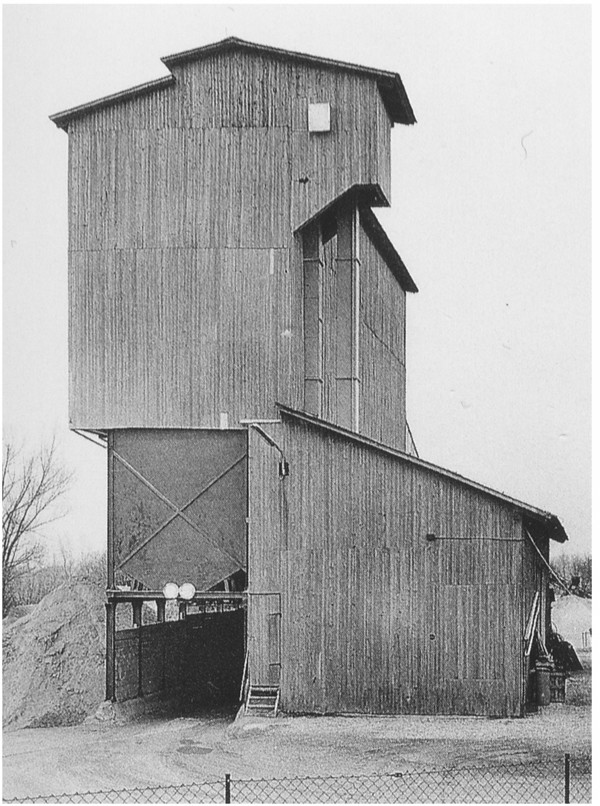 Bernd and Hilla Becher
We have always been charmed by this Becher photograph. The building's composition is elegant, and yet it has clearly been built without aesthetic consideration. It has an informal charm that has presumably resulted from a series of functional decisions. It reminds us that it's often best just letting something be what it needs to be, without trying to smooth or sanitise what might otherwise have a character all of its own. We often talk about this photo as an expression of what we refer to as some kind of 'organic functionalism'.